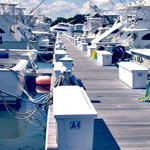 Fishing Report for November 4th (2012)
Written on: November 4th, 2012 in Fishing Report
Unfortunately due to Hurricane Sandy, there hasn't been much to report, until today. Fisherman fishing the rip rap on the north side of the Inlet were catching Tog, Rockfish and Puppy Drum (Red Drum), so it seems that the fishing has picked up right where it left off before the storm. I haven't gotten any reports from the boats fishing the area yet, but will post as I get the information.
Access to the Inlet area was restricted until after the damage to the roadway was repaired and the sand removed.
We are Happy to report that the Bridge is now open and access is once again open to the Indian River Marina and the Inlet area for fishing. As of this morning anglers were lining the rip rap and fishing for Rockfish, Tog and whatever else will bite. Fortunately the Marina only sustained minor damage and the boats all weathered the storm with only minimal rubs and scrapes to them. The ramp has been cleared of debries and is operational as is the fuel dock, the only problem is the lack of fresh water on the main docks until the repairs are made to the water lines in a few of the docks.
There are still Charter boats in the water available for fishing as are both the Headboats. for further information just visit the links below. As soon as we get any catch reports we'll get them on here. Until then Good Luck and Tight Lines.
www.destateparks.com/marinas/charter.asp