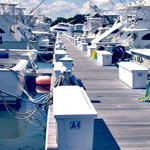 Fishing Report for November 30th (2012)
Written on: November 30th, 2012 in Fishing Report
The fine weather continues to cooperate and although windy at times there is decent enough weather inside the inlet even when the ocean is in turmoil.
Anglers fishing off the beach have had some good days fishing and some slow days fishing, it depends on the current and the water clarity. Many anglers trolling off the beach are using Stretch Lures for Rockfish with good results. Some anglers were having good results with Tog, but I haven't received any results from boats fishing for them for awhile now.
Anglers fishing inside the inlet are fishing from both the shore and from boats and the results are pretty much the same, some anglers catching and some not. One angler I spoke to on the rip rap reported catching one short Rockfish and losing another today with the same report from boats returning to the marina, some catching while some are not. Tog fisherman report that the currents are running pretty hard with the Full Moon tides.
In the Back Bay area there are some anglers still catching Rockfish and an occassional Puppy Drum in the mix from creek mouths.
There are still good fishing days ahead with a forecast of some nice fishing weather over the weekend.  There are still a few Charter Boats running out of the marina and there contact information can be found in the link below. Good Luck and Tight Lines!
www.destateparks.com/marinas/charter.asp