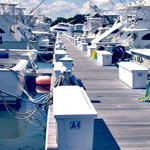 Fishing Report for December 6th (2012)
Written on: December 6th, 2012 in Fishing Report
Fishing still continues to be fair to good depending on where your fishing and it seems when the fish are moving thru. The weather has been more than cooperative this Late Fall season, with warm temperatures and for the most part dry.
Offshore I have heard through other sources that there are Tilefish being caught out in the canyon areas, but none of the captians I have spoken with have been fishing there.
Inshore the action seems to be on catching Tog on structure with some boats catching their limits. What most anglers have been targeting here of late has been Rockfish. Boats trolling north just outside the jetty to two miles out have reported good fishing for the Linsiders with both keepers and shorts.
In the Inlet, the boats have been drifting from the bridge area to in front of the Marina enterance, with most in the area in front of the Coast Guard Station. On some days the boat traffic fishing the Inlet is reminiscent of days during the summer with trailer boats having to use the ramp overflow parking.  Anglers fishing from the Rip Rap have been connecting with Rockfish in the area from the bridge to the Coast Guard Station and from the station west along Bubble Gum Beach in front of the cottages. Anglers are also working the Rip Rap on the Southside from the bridge to in front of the campground. Tog fisherman have been concentrating their efforts on the Rip Rap near the Old Bridge piers.
In the Back Bay area, anglers are still connecting with Rockfish at the enterance of some of the creek mouths.
Indian River Marina Fuel Dock is still open 7 days per week until the end of the year and will change to being closed on Sunday's in January. Remember the Fuel Dock is Closed on Christmas Day and New Years. The Cottages at Indian River Marina are available for rental all year and the rates in the off season are worth checking into for groups of fisherman looking for a place to stay close to the action. There are still boats available for Charters, although the numbers are getting smaller with the Karen Sue being one that runs all winter. Hook 'em & Cook 'em Bait and Tackle is still open and to find out when they will be shutting down call them at 302-226-2214. Link for the Charter Boats and Hook 'em & Cook 'em Bait and Tackle will be posted below and information for the Cottages can be accessed through the same link. Good Luck and Tight Lines!
www.destateparks.com/marinas/charter.asp