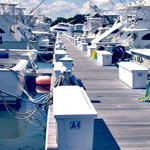 Fishing Report for December 18th (2012)
Written on: December 18th, 2012 in Fishing Report
The Rockfish and Tog still keep gracing the creels of local anglers, much to the delight of all. The weather has been cooperating with warm conditions and for the most part dry.
Off the beach, anglers are continuing to catch Tautog (Tog) on the offshore structure, some being braging size. The other news is the nice Rockfish catches being caught off the beach and in the Delaware Bay.
In the Inlet, anglers are catching Rockfish from both boats and from the shore. Many of the Linsiders are taking spot baits, while many are being caught on artificials such as bucktails. The areas along the Rip Rap on both the Northside and the Southside are good bets, but the Bubblegum beach area has turned on as of late for the shore based anglers. While boat anglers have been having luck drifiting the areas around the Coast Guard Station and the old sand bar area on the south side. Some boat anglers have been following the working birds throughout the inlet.
Here is a few photo's of fish from the Inlet caught by Ronnie Payne today. Ronnie kept these nice Rockfish for the table, then caught and released many more, Great Job Ronnie!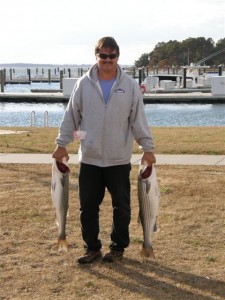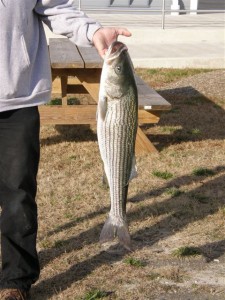 As for Tautog (Tog), anglers fishing along the Rip Rap have been catching these tasty fish on crab and some anglers have used sandfleas.
Also I've seen some shad still being caught from time to time.
So as you read, there is still some winter fishing to be done here at Indian River Inlet and with luck it will continue throughout the winter as a couple of years ago. Almost all of the Charter Boats are out for the season with the exception of Capt Aaron Hurd on the "Gale Force" and Capt John Nedelka on the "Karen Sue". I'm not sure how much longer the "Gale Force" will be running, but the "Karen Sue" will be running throughout the winter fishing season. Their information can be found at the web link posted below.
This will be my last posting on the blog as I'm moving on to the retired life and practicing what I preach here, Fishing. The reports will be continuing though and here's wishing you, Good Luck and Tight Lines.
www.destateparks.com/marinas/charter.asp