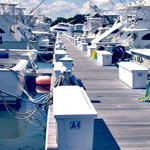 Fishing Report for 2/23/13
Written on: February 23rd, 2013 in Fishing Report
Hello all…. its been a long cold winter so far and we are just getting geared up for another season.  Give us a call at 302-227-3071 if you have any new fishing reports or hear of any fish moving our way.
We are proud to announce that Hammerheads Dockside will be joining us this year as our new concession.  We have alot of new events and yes some fishing tournaments to look forward to this year!!!!  We look forward to seeing the renovations that will be taking place this spring.
We want to give a special thanks to all that volunteered, worked and visited us at the OC Boat Show it was a huge success!
Tight Lines and Good Times