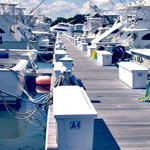 Written on: July 19th, 2013 in Fishing Report
Captain John Nedelka had a great day with his crew hitting the docks with large Seabass, Red Hake Ling and 2 Cobia weighing in at 19.5 & 20.5 lbs.  The jpg was too large to download sorry no pic.  Great day guys!!
Al White of Georgetown, DE landed a 7.3lb Sheepshead while fishing in the Indian River Inlet using sand fleas.
Nice Rockfish landed by Chad, Jason and Will Cochenour of Delaware the largest weighing in at 14lbs.
Captain Aaron Hurd aboard the Gale Force along with Mate Jimmy hit the docks with their crews limit of Flounder.  Nice catch guys.
One of our private boaters Jeff Waxman and Jen Majak came to the docks with 2 nice Mahi while fishing at the Hot Dog.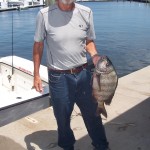 Written on: July 14th, 2013 in Fishing Report
The fishing continues to be great here at Indian River Marina.  Our charter fleet and head boats are keeping busy so be sure to reserve your spot today.  Call us at 302-227-3071.  Here are a few more highlights from this past week.
David Smith, Kahle Shaner and Dave Harper all from Oak Orchard, DE caught nice keeper rock fish while fishing in the Indian River Inlet using live spot.  David's fish weighed in at 13.9lbs, Kahle's fish weighed in at 14.6lbs and Dave's fish weighed in at 9.7lbs.
Hunter Lipaska of Yardley, PA, caught a 17.5 inch flounder while fishing at B-buoy. It was caught using shiners and cut bait.
Ricardo Conti and his son Leandro of Columbia, MD caught a nice 3.5lbs flounder while fishing at Site 10 using cut bait and shiners.
Al and Josh Barnhart of Hanover, PA, caught a 17″ keeper flounder using shiners and squid and a black sea bass using salted clam out at Site 10.
Written on: July 13th, 2013 in Fishing Report
Offshore fishing is going off!  The big eye bite in the Washington Canyon has been the best in years.  Fish are being weighed in up to 253 lbs.  Boats are coming in with 1-4 big eyes per day.  This weekend there is lots of action at the tuna tournament in Ocean City, MD.  Weigh-ins are 4pm-7:30pm on Saturday and 4pm-7pm on Sunday.  In addition to the big eyes, wahoos, yellowfins, gaffer, mahis, and bluefins are all being reported and coming to the docks.
Inshore and in the Inlet great catches of rockfish, flounder, trout, and triggerfish have come in.
While trolling out at the Hot Dog, Chad Sollenberger, Evan Smith (Angler of the bluefin), Ron Brooks, Shawn O'Connell, Evan gallimore and Ben Stonsifer (angler of the yello fin) all from Lancaster County, PA, caught a 116lb bluefin and an 84lb yellowfin.
Joe and Brent Reed and Dan and Ron Baker of Lewes, DE caught a 81lb blue fin tuna while trolling ballyhoo out at Massey's Canyon.
Sean Barba was fishing with his grandpa in the Indian River Inlet and caught a 10.6lb and 32″ rock fish on a live spot.
While on the head boat Judy V. with Capt. Eddie Wheedleton Bryan Grziwok of Berkley, CA, caught these 4.4lb and 24″ and 4.8lb and 25″ flounder. They caught these fish just south and west of Site 11 using squid and shiners.
Six year old Bradley Marks and younger brother four year old Brian from Long Neck, De went fishing at a wreck off of Fenwick island.  The largest spade fish weighed in at 2.5 lbs and the largest triggerfish weighed 2.3lbs.  They were fishing with sand fleas.
All pictures are courtesy of Hook 'em & Cook 'em.
Our charters are filling up fast so please call 302-227-3071 to book your's!
Written on: July 7th, 2013 in Fishing Report
The action continues to pick up out of the Indian River Marina.  One of our charter boats, the Captain Ike II with Captain Dave Collins aboard hit the dock with 137 lb and 63 lb bluefin tunas.  Great catch!
Tony Burr from our drystack landed a 163lb big eye while the crew pulled in yellowfin tunas and mahi.
Paul and Vicki Cronshaw, two of our private boaters, caught a 11.5 lb, 34″ bluefish in the Inlet using live spot.
Chris Admas landed a 5.7 lb/25″ and 2lb/17″ flounder while fishing by the Coast Guard station with live shiners.