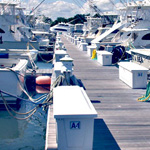 Fishing report for 7/14/13
Written on: July 14th, 2013 in Fishing Report
The fishing continues to be great here at Indian River Marina.  Our charter fleet and head boats are keeping busy so be sure to reserve your spot today.  Call us at 302-227-3071.  Here are a few more highlights from this past week.
David Smith, Kahle Shaner and Dave Harper all from Oak Orchard, DE caught nice keeper rock fish while fishing in the Indian River Inlet using live spot.  David's fish weighed in at 13.9lbs, Kahle's fish weighed in at 14.6lbs and Dave's fish weighed in at 9.7lbs.
Hunter Lipaska of Yardley, PA, caught a 17.5 inch flounder while fishing at B-buoy. It was caught using shiners and cut bait.
Ricardo Conti and his son Leandro of Columbia, MD caught a nice 3.5lbs flounder while fishing at Site 10 using cut bait and shiners.
Al and Josh Barnhart of Hanover, PA, caught a 17″ keeper flounder using shiners and squid and a black sea bass using salted clam out at Site 10.