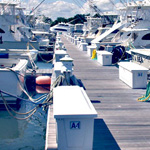 Fishing Report for 7/19/2013
Written on: July 19th, 2013 in Fishing Report
Please accept our apologizes as we are having some technical difficulties downloading our pics.  Offshore and Inshore fishing is red HOT! right know so give us a call and let us get you hooked up with one of our Charter Boats 302-227-3071.
The Capt. Ike II with Captain Dave Collins aboard and crew hit the docks with this great catch of 417 lbs of Yellowfin Tuna. Great catch guys!!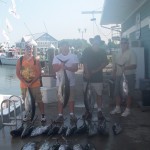 One of our private boaters Captain Charlie Horning and crew hit the docks with 4 awesome Big Eyes.  Weighing in at 271lb, 178lb, 192lb and another 271lb!!!  Sweet catch!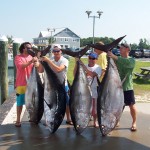 Jim Clark, Steve Lewes and Brad Clark all from Rehoboth, DE landed a 50.8lb Tuna and 8lb Mahi at the Hot Dog then ventured to the Baltimore Canyon and landed 14 Tilefish largest weighing in at 20.8lbs.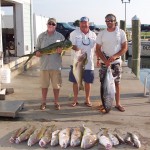 Pictures all courtesy of Hook'em and Cook'em here at Indian River Marina.  Come on down and watch the fish being weighed in while enjoying a cold beverage at Hammerheads Dockside open daily 7am-11pm.  Till then Tight Lines and Good Times!!!!