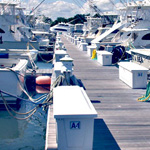 Fishing report for 7/2013
Written on: July 20th, 2013 in Fishing Report
The temperatures and fishing have been hot over the past few days here at Indian River Marina.  Great catches continue to hit the docks from offshore, inshore, and bays.
Dave Schulte, Khris Hering, and Jim Senker all from the Eastern Shore of Maryland caught a 32lb wahoo using a black and purple llander rigged with ballyhoo out at the Hot Dog.
Brent Hurley of Beathany Beach, DE with Bill and his father, Capt. John Low of Georgetown, De on the "Out of Line" caught a 116.8lb blue fin tuna while trolling ballyhoo at the Hot Dog.
Mark Weibner or West Reading, PA and Daniel Abikasis of Granda Hills, CA caught a 41.9lb and 40″ cobia on the 20 Line using a green machine on the trill.