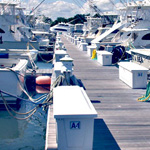 Fishing Report for 1/3/14
Written on: January 3rd, 2014 in Fishing Report
Happy New Year Everyone!!!!  We are at the tail end of Winter Storm Hercules.  At this time we are reporting no visible rigger damage and no visible canvas damage.  We will be monitoring throughout the weekend with strong winds and colder temps expected.  At this time we are experiencing a king tide with NW winds pretty darn cold and miserable I must say.
On a better note Rockfish were still being landed earlier this week in front of Sea Colony and down off of Ocean City.  Nice fish with many boats hitting their limit within 2 hours of fishing.  We will keep you posted next week once we get through this weather.
The Indian River Marina is pleased to announce its first with more to come fishing tournament.  The Kids Catch-All T0urnament will be held at the Marina from June 27-29.  A portion of the proceeds will benefit the Lyme Disease Association of the Eastern Shore of Maryland ( which serves sussex county).  We will have a full web-page posted shortly.   Please sign your kids, grandchildren, freinds and neighbors up for this fun filled weekend!!
Come visit us at the Ocean City Boat Show Feb. 14.15, & 16 to find out what specials we will be offering.
Stay warm and remember tight lines and good times are not far away…………