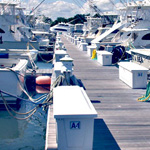 Fishing Report for 2/1/2014
Written on: February 1st, 2014 in Fishing Report
It is hard to believe that February is already here.  Fishing season is almost upon us and everyone at Indian River Marina has been working hard throughout the winter getting everything ready for the spring and summer.  We are all very excited to open the doors to the newly renovated marina store, which will carry many traditional items, but also new and exciting pieces of merchandise.   Be sure to stop in and check it out this spring!
In the meantime staff from the Indian River Marina and captains from the Indian River Marina Charter Fleet look forward to seeing old friends and meeting new ones at the OC Seaside Boat Show February 14 – 16 at the Ocean City Covention Center.  Stop by booths #159 and #160 to hear all about the exciting things we have going on at IRM.  We are going to have a fun-filled summer for people of all ages.
It is not too early to mark your calendars for the 1st Annual Kids Catch-All Fishing Tournament on June 27, 28, and 29 for youth 3 to 18 years old.  For more information on this great event that benefits the Lyme Disease Association of the Eastern Shore of Maryland, which serves Sussex County in Delaware please visit http://www.destateparks.com/marinas/Catch-all-tournament-2014.asp  If you know of a company or organization that would like to take advantage of the great marketing opportunities provided by the tournament please have them contact Scott Borino at 302-227-3071 or scott.borino@delaware.gov to learn about the varying levels of event sponsorship that are available.
For the sixth year in a row the Seafood and Arts Festival returns on Saturday July 26th.  There will be plenty of excellent seafood and nautical themed arts and crafts.  As usual, kids will have lots of games and crafts to choose from as well.
We hope that you are all having a great winter and look forward to seeing everyone on the docks soon!