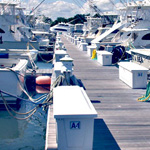 Fishing Report for 10-2-15
Written on: October 2nd, 2015 in Fishing Report
Go Away Joaquin…….  The Nor'Easter is far worse at this point!!!!
Before all this mess, Tuesday and Wednesday  turned out to be some great Offshore fishing.  A few boats ventured out into the large swell only to come back to the docks with limits of 70-80lb Yellowfins, Big Eyes and limits of Gaffer Mahi.  The Tuna fishing was red HOT….. Not sure what will happen after the blow but let's keep our fingers crossed for some calmer waters and good fishing.
So far so good here at IRM…. expecting some very high tides and winds for the next couple days…. stay posted
Till next time Tight Lines & Good Times!!!!!