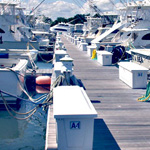 Fishing Report 11/21/2015
Written on: November 21st, 2015 in Fishing Report
Happy Thanksgiving to everyone! Our parking lots were full this weekend as anglers were taking advantage of all the Seabass Inshore. There are scattered reports of scattered Bluefish and we are still waiting for all the Rockfish to come south from New Jersey as the water gets colder.
As a remind to our slip holders, there are only 3 weeks left to get your vessels out of the water for winter land storage.
This winter please be sure to stop by and visit us at the Ocean City Boat Show February 12-14 and mark your calendars for the 2nd Annual Kids Catch-All Fishing Tournament, June 24th-26th here at the Indian River Marina, and the 8th Annual Seafood and Arts Festival on Saturday July 23rd.
Til next time Tight Lines and Good Times!