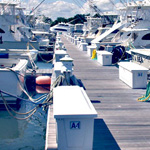 Fishing Report 4-23-17
Written on: April 23rd, 2017 in Fishing Report
Fishing Report 4-23-17
The wind and rain are on the way. We are still hearing reports of Tog limits being reached, so there is still some fishing going on.
Hammerheads is open on weekends now, so stop on in and have a cold one!
Also, our ship store is now open Wednesday thru Sunday, so swing by and get some awesome Indian River Marina gear to start off your spring fishing!
Til next time, tight lines and good times!