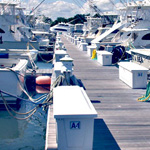 Fishing Report 4/17/18
Written on: April 17th, 2018 in Fishing Report
Wind Wind WIND!!!
Will it ever stop?  Welcome to Spring everyone??  It really is that time of year to start fishing and getting the boats geared up for a great season.  There has been some good Tog fishing reported here and there when the weather will cooperate.  Let's all hope this wind stops and the water warms up and brings some fish our way real soon!!!
Hammerheads Dockside is open Thursday-Sunday 11:00-8:00.  We were packed around here over the weekend with lots of work getting done on boats and plenty of people just taking in the warm breezes and good eats.
Hope to have some real fishing reports soon till then Tight Lines & Good Times.