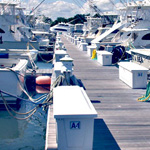 Fishing Report 11/24/19
Written on: November 24th, 2019 in Fishing Report
Happy Holidays Everyone!!!
Well not much fishing action going on right now.  Some Yellowfin, Big Eyes and Swordfish hit our docks about a week ago.  It been pretty quiet since.  We will keep you posted throughout the winter when we hear of some nice catches and let's keep hopeful the Rockfish will show up.
Have a great Thanksgiving!!!
Till next time Tight Lines & Sweet Times   🙂