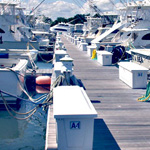 Archived Posts From: 2021
Written on: April 22nd, 2021 in Fishing Report
Happy Spring to Everyone!  We sure are ready to do some Fishing!!!
Not a lot of action yet although we have had some Tog and a couple small Rockfish landed.  It looks like the water is warming up and the weather will hopefully begin to cooperate.
The 6th Annual Kid's Catch All will be held on June 25, 26 and 27th.  Entry forms can be found online at www.kidscatchall.com .  You can also stop by the Marina Office or any of the local tackle shops.  This is a great event for the kid's. After canceling last year due to COVID it seems everyone is ready to get back out on water and bring their catch to the dock to see who will be the big trophy winners!!!
There is a list of all of our events planned for the 2021 season.  Of course things subjected to change as we all are use to by now and Covid restrictions and all guidelines will be followed.   🙂
Let's hope for some better fishing day ahead till next report
Tight Lines & Better Times for ALL!!!!!