Category: Events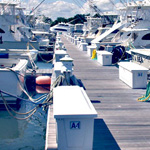 Written on: August 29th, 2015 in Events, Fishing Report
Although it might be a bit windy today, it's still been an amazing day at Indian River Marina. Beautiful weather looks to be on the forecast tomorrow so be sure to come on down to the marina and take part in the amazing fishing! Inshore reports Flounder, Croaker and Sea Bass still hold strong as many of them are still getting hooked. Offshore scattered Tuna, both Bigeye and Yellowfin are being caught, Wahoo and Gaffer Mahi also are landed. Marlin releases continue to be up also.
Be sure to stop by and enjoy this amazing weekend. Grab yourself a cool drink and listen to great music at Hammerheads as the boats come in. Stop by on Sept 12 from 9 to 3 to see what all our slip holders are selling in our first Fisherman's Tailgate.
Now lets get to all the amazing photos!
James Walker of Ocean View, DE, caught this keeper flounder that weighed 2lbs while fishing on the Judy V. with Capt. Eddie Wheedleton. They were fishing at the Old Grounds using cut bait on top and bottom rigs.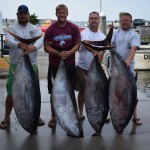 Johnny Coffiey and Mike Baumgartner of Hook 'em & Cook 'em and Capt. Dave Collins and Capt. Brian Joseph of the Capt. Ike II took a fun fishing trip out to the Baltimore to track down some big eye tuna. They left the dock at 3pm headed to the Baltimore Canyon caught 4 out of 7 big eyes and were back to the dock by midnight. They weighed 150lbs, 148lbs, 149lbs and 132lbs and were caught trolling ballyhoo.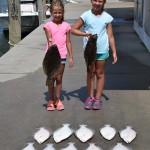 Capt. George Merrick took his daughters Lily and Sophia fishing out to the Old Ground and they came back with their limit of Flounder. Capt. George reported that they caught all the fish using cut bait and squid.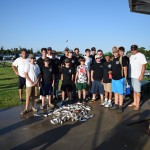 Boy Scout Troop 534 from Harrington, DE took a split charter with Capt. Rodney Jones of Fish Whisperer Charters and Capt. Rodney Meyers of Last $.  The troop was attempting to earn their merit badge for catching, cleaning and preparing their fish.
Til Next Time Tight Lines and Good Times!
Photos Courtesy of Hook'em & Cook'em
Written on: August 21st, 2015 in Events, Fishing Report
Another great week here at Indian River Marina! Inshore reports Sea Bass, Croaker and many people are still catching their limit of Flounder. Offshore reports lots of Gaffer Mahi, and nice sized Blue Line Tilefish. Tuna are scattered but there have been some nice sized Big Eyes landed. There have been many White and Blue Marlin releases as well!
With summer coming to an end be sure to take advantage of all the great fishing while you can. This weekend looks to be just as great as this past week, so call the office at 302-227-3071 and ask for Carolyn to book yourself a charter today!
Now for photos of all the great catches!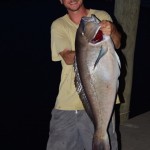 Andy Orr of Drumore, PA caught this 22.2lb and 36 inch blue line tile while fishing out at the Baltimore Canyon with squid. This is pending for yet another new Delaware record for the blue line tile category.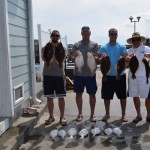 Karen, Michael and Alex Avery along with Max and Ben Napolitano caught these keeper flounder while out at the Old Grounds fishing with squid and minnows. The largest weighed in at 4 lbs.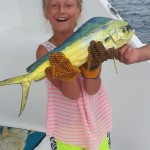 Kiira Akers of Morcroft, WY caught this 8 lb mahi while fishing on the "Sailor Ann" in Baltimore Canyon while casting chunks of ballyhoo on a spinner.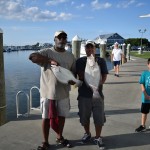 While fishing on the head boat Judy V. with Capt. Eddie Wheedleton Mike Lewis of Phila, PA and Phil Binaso of Long Island, NY brought home some nice sized flounder while fishing around B-Buoy using cut bait. The largest weighed in at 4.9lbs and measured 24 inches.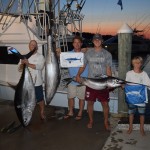 The crew from the Fish Whistle set out on an overnight trip to the Washington and came back with thees big eye tuna that weighed in at 177 and 145. They also brought up a 39.2lb sword fish and had 2 white releases and 1 blue release. Pictured are Trent and Bill McMahon, Johnny and Owen Horning.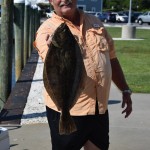 George Fisher of Hook'em & Cook'em Outfitters caught this 4.6 lbs 24 inch flounder while fishing with Gulp baits out at the Old Grounds.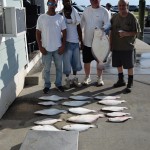 Sonny Irwin of Coatesville, PA, Cory Lavender of Modena, PA, Steve Mattson of Gap, PA and Bob Irwin of Coatesville, PA had a great day of flounder fishing out at B-Buoy. Steve brought in this 11.5lb and 31 inch flounder using cut bait on a bucktail.
Til next time Tight Lines and Good Times!
Photos courtesy of Hook'em and Cook'em