Category: News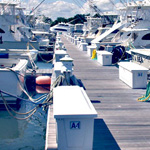 Written on: May 31st, 2019 in Events, Fishing Report, News
Hope everyone enjoyed their Memorial Day weekend! We were due for a nice weekend, and we sure got it.
INSHORE
Reports of sea bass popping up more and more coming in from the surf. Fishermen consistently hitting their limits all week.
Blues have slowed down a little, with reports dropping off but still scattered.
Some ling and a couple flounder came in with the blues as well.
OFFSHORE
It was an okay week for tuna, but we're still early in the season. Most bluesfin – haven't heard of any more yellowfin, but that's not to say they're not out there.
A couple of thresher sharks brought in the past couple weeks. Heard there were a few mako as well.
Mahi also hitting the decks intermittently.
By now, everyone should know about our annual Kids Catch All youth fishing tournament on June 21-23 – we still have sponsorships opportunities available, so if you are interested in
Written on: May 3rd, 2019 in Events, Fishing Report, News
Hope everyone was able to get out and enjoy the summer tease this week. It's looking nice tomorrow morning, but then it's a full two weeks of rain.
We're done with tog now, just about. People are still fishing for them, but it's few and far between at this point.
The Inlet was kicking this week, with some anglers reporting limits of bluefish. Sounds pretty good to me! The anglers with limits reported they were using minnows.
Keeper flounder have been peppering the beaches, with reports coming from CHSP fishing pier, Massey's, the canal, with more reports coming offshore.
The beaches are coming up with blues, short rock (few keepers), black drum, and blowfish.
If you want to keep up with the fishing community both locally or all over the nation, download the new social fishing app Great Anglers from your app store, for iPhone and Android. The app is free, and it allows you to see what's being caught and where, either near you or anywhere, which I love because you can see all the gorgeous tropical fish being caught down in the Gulf. The app was co-created by the owner of Hook 'em& Cook 'em, and you can follow them at hook-em&cook-em on Great Anglers.
Hammerheads is OPEN 7 days a week so come snag a snack, a meal, a drink, or all 3. They will be CLOSED next Friday May 10.
And of course, I'm going to plug the Kids Catch All until it's over.  June 21-23. Be there!!
Written on: April 13th, 2019 in Events, Fishing Report, News
It might not be sunny, but at least it's warm! Looking forward to this weather break. Hopefully it sticks.
Tautog are down for the count. Thank goodness coming in right behind them – we have the first flounder reports of the year that came out of the Indian River Bay on Sunday – one keeper and two shorts. Not much more information on those.
More good news, after a couple weeks of shorties, the first keeper (33 inch) striper was reported to come out on a bucktail on the north end of 3R's in Delaware Seashore State Park. Anglers have been pulling shorts up steadily from the rocks at the IR Inlet and from the beaches as well.
Don't forget – June is coming up quickly and so is our Kids Catch All Tournament! No experience necessary – open to youth anglers age 3-18, and every entrant receives a prize! Two nights of dinner, raffles, and family fun! Check out kidscatchall.com or call us at 302-227-3071 to find out more!
Written on: April 5th, 2019 in Fishing Report, News
Coming to you live from a chilly, rainy marina. Hope everyone was able to take advantage of one of the weather breaks we've had this week.
Reports say anglers are pulling short stripers (15-20 in.) out of the Inlet pretty consistently in the early morning and the late afternoon. Best bait is either artificials or bloodworms. Hook 'em and Cook 'em is open (weather permitting) on weekends now, but make sure you call ahead to check! 302-226-8220
After all of these weeks of tog being the only game in town, they practically dropped off the map this week. All boats that actually made it out in the wind reported poor catch results.
Water temperature is still hovering at 46 degrees. Kick it up a little, Mama Nature!
P.S. Make sure to follow our Instagram at indian.river.marina to get non-fishing updates (and pretty pictures of the ocean).