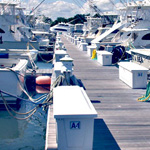 Fishing Report for 9/11/2013
Written on: September 11th, 2013 in Fishing Report
Things are picking up a bit at the Indian River Marina.  There is still plenty of time get some more fishing in.
Tim Brown and Heather Harding of Dover, DE, caught 2 flounder both weighing 4lbs using live spot while in the Indian River Inlet.
Tyler Tribbitt and Ryan Warner of Ocean View, DE caught  flounder while fishing in the Indian River Inlet using live spot on "On the Rocks"
Jack Conway, Sr. of New York City, NY, George Merrick of Dagsboro, DE, Josh Gessler of Media, PA, Jack Conway, Jr. of New York City, NY, Jacob Webb of Lewes, DE and Tommy Gessler of Media, PA caught 2 big eye tuna that weighed in at 236lbs and estimated 185lbs (japped to fit in cooler) and 9 yellow fin tuna in the Washington Canyon before dark.  They then went to the Poor Man's and had one long fin tuna and 4 marlin releases.
Do not forget to book your winter land storage and dockage for 2014 by callign us at 302-227-3071.
All pictures are courtesy of Hook 'em & Cook 'em