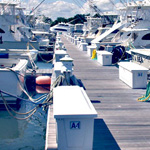 Archived Posts From: 2013
Written on: October 29th, 2013 in Fishing Report
Although it is late October we are lucky to have spring-like weather.  Winter haul outs are upon us, but there are still plenty of fish waiting to be caught.  If you are interested in winter land storage please give us a call at 302-227-3071.
Susan and John Byrd of Pike Creek, DE caught these fish while fishing in the Indian River inlet using live green crab.  Susan was using a top and bottom rig and hooked up a double header of Red drum. Her fish weighed in at 3.5lbs and 4lbs while John's tog weighed in at 2.6lbs
— Picture courtesy of Hook 'em & Cook 'em
Written on: October 13th, 2013 in Fishing Report
Wind!, Wind!, Wind!  Wind and stormy conditions have left our boaters tied tight to the docks this past week.  It looks like the next fishable day will be Mid-Week!!! let's keep our fingers crossed.  We will keep you updated on some end of week reports as they come in.
Come on down this Saturday October 19th to the First Annual Docktoberfest!!!  Hammerheads Dockside will have a German buffet of Beer Tastings, Live Music 4pm-7pm and plenty of Great Eats!!!!  Fun for the entire Family…….
Winter Haul outs have begun please get your vessel scheduled for your haul out date as soon as possible.
Lots of great things planned for next year until then Tight Lines and Good Times!!!