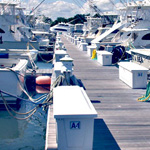 Archived Posts From: 2013
Written on: September 24th, 2013 in Fishing Report
The weather has held many of our boats to the docks this past week.  The Headboats are still running reporting good Flounder catches.  Offshore reports still coming in with great fishing, Tuna, Marlin, Wahoo.  There is still time to book a trip with us and get in on the fun!!
The New " Indian River Marina Fishing Club" will be beginning in 2014 with lots of new events for your entire fishing family.  We will be hosting Certified IRM Fishing Tournaments, prizes for the First Marlin, Tuna and Mako caught and much more to be announced soon so stay tuned.
Tight Lines and Good Times continue……
Written on: September 18th, 2013 in Fishing Report
If yellowfin are what you are after then the Washington Canyon is where you want to be.  The Washington has been hot within the past few weeks.  The Rockpile has been turning up a good number of white marlin as well.
The Indian River Maina Charter fleet is still heading out into the action and there is plenty of time to get in on the fun.  The staff at Indian River Marina are happy to assist you in setting up your trip, whether for a half or full day or an overnight, just call 302-227-3071.
As a reminder to all of our slipholders, this Saturday is our 3rd annual customer appreciation party from 4pm-7pm.  The marina will provide hot dogs, burgers, soda, and water.  If you would like to attend and/or bring a covered dish please sign up in the office.
Written on: September 13th, 2013 in Fishing Report
Wow what a big temp change we are in for this weekend.  Get your Hoodies out and if you don't have one stop in the Ship's Store and pick one out to keedp you warm.  Fishing is great Offshore with plenty of Big Eyes, Yellowfin and Longfin Tunas being caught in the Wilmington and Washington Canyon's.  There have even been good numbers of White Marlins being released.  The Flounder bite seems to be hot with many anglers landing some nice fish.
CUSTOMER APPRECIATION PARTY SATURDAY SEPTEMBER 21ST 4-7 WITH LIVE ENTERTAINMENT WITH THE KENNY JONES BAND!!!  Hamburgers, Hotdogs, Sodas provided and bring your favorite dish to share.  The third Annual Horseshoe contest will also be held and sack races for the kids.
Captain Charlie Horning, Trent McMahon, Bob Werner and George Merrick hit the docks from an overnighter landing a 174lb and 157lb Big Eyes and a 120.5lb Yellowfin.  Nice catch guys!!!!
Bob Sanderson of Dover, DE caught this 7.5lb Flounder.
Greg Hutton and Steve Schad landed this 241lb Big Eye Tuna and 6 Yellowfins while fishing with Charlie Horning.
Picture's courtesy of Hook'em and Cook'em…..  Come on down and watch all the fish being weighed in at Hammerheads Dockside our fun, new, relaxing hot spot on the docks!!!!  Open Daily 7am
Written on: September 11th, 2013 in Fishing Report
Things are picking up a bit at the Indian River Marina.  There is still plenty of time get some more fishing in.
Tim Brown and Heather Harding of Dover, DE, caught 2 flounder both weighing 4lbs using live spot while in the Indian River Inlet.
Tyler Tribbitt and Ryan Warner of Ocean View, DE caught  flounder while fishing in the Indian River Inlet using live spot on "On the Rocks"
Jack Conway, Sr. of New York City, NY, George Merrick of Dagsboro, DE, Josh Gessler of Media, PA, Jack Conway, Jr. of New York City, NY, Jacob Webb of Lewes, DE and Tommy Gessler of Media, PA caught 2 big eye tuna that weighed in at 236lbs and estimated 185lbs (japped to fit in cooler) and 9 yellow fin tuna in the Washington Canyon before dark.  They then went to the Poor Man's and had one long fin tuna and 4 marlin releases.
Do not forget to book your winter land storage and dockage for 2014 by callign us at 302-227-3071.
All pictures are courtesy of Hook 'em & Cook 'em
Written on: September 6th, 2013 in Fishing Report
The weather has kept most of our boats tight to the Docks today.  Offshore fishing has been hit or miss this past week, in the Washington there have been Yellowfin, the Wilmington producing a mix bag of Wahoo and White Marlin and reports of Longfin Tuna and Marlin in the Baltimore yesterday.  Inshore fishing has been good with reports of Croaker,Flounder, Black and Red Drum and Rockfish.  We have a couple catches from this past week.
Jason Pfeiffer, Rudolf Birnbach, Russel Carrico, Richard Hubbard and Randy Sparkman landed a 79.7lb and 40lb Wahoo and released 2 White Marlin.
Mike Wolynetz caught a 1.4lb pompano while fishing at Bubble Gum Beach he also landed 8 Black Drum and 2 Red Drum.  Nice catch!!
Picture courtesy of Hook'em & Cook'em
Hammerhead Dockside is open daily at 7am serving breakfast, lunch and dinner…. Come on by relax and watch the Sunset!!!
Our September fuel dock hours are Monday-Thursday 7am-5pm, Friday, Sat. and Sunday 7am-7pm.