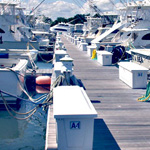 Fishing Report for 9/13/13
Written on: September 13th, 2013 in Fishing Report
Wow what a big temp change we are in for this weekend.  Get your Hoodies out and if you don't have one stop in the Ship's Store and pick one out to keedp you warm.  Fishing is great Offshore with plenty of Big Eyes, Yellowfin and Longfin Tunas being caught in the Wilmington and Washington Canyon's.  There have even been good numbers of White Marlins being released.  The Flounder bite seems to be hot with many anglers landing some nice fish.
CUSTOMER APPRECIATION PARTY SATURDAY SEPTEMBER 21ST 4-7 WITH LIVE ENTERTAINMENT WITH THE KENNY JONES BAND!!!  Hamburgers, Hotdogs, Sodas provided and bring your favorite dish to share.  The third Annual Horseshoe contest will also be held and sack races for the kids.
Captain Charlie Horning, Trent McMahon, Bob Werner and George Merrick hit the docks from an overnighter landing a 174lb and 157lb Big Eyes and a 120.5lb Yellowfin.  Nice catch guys!!!!
Bob Sanderson of Dover, DE caught this 7.5lb Flounder.
Greg Hutton and Steve Schad landed this 241lb Big Eye Tuna and 6 Yellowfins while fishing with Charlie Horning.
Picture's courtesy of Hook'em and Cook'em…..  Come on down and watch all the fish being weighed in at Hammerheads Dockside our fun, new, relaxing hot spot on the docks!!!!  Open Daily 7am