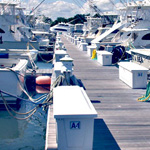 Fishing Report for 11/24/13
Written on: November 24th, 2013 in Fishing Report
Happy Thanksgiving!!!!  Hope everyone is getting ready for some good eats next week.  It looks like winter has arrived with a vengeance.  Its blowing a steady 25-35 mph with higher gusts and a wind chill they say of 15!!  UGH…..  There have been some fish caught lately in and around the Indian River Inlet and the mouth of the Delaware Bay.  We have had no Offshore reports other than some long liners have had great success in the last couple weeks with Swordfish catches.
Joey Celano of Wilmington, DE landed this nice 30 lb 42.5 Rockfish while trolling Stretches in the Rips with his buddies Jake Smith and Carter DiRado.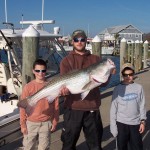 Chris Graves of Georgetown, DE caught this Citation Rockfish while trolling with a white parachute rig at the mouth of the Delaware Bay weighing 38lbs and measured 44 inches.
Pictures courtesy of Hook'em and Cook'em
Be looking for our 1st Annual Kids Catch All Tournament this summer 2014 June 27-29 at the Indian River Marina!!!
Hammerheads Dockside is open Daily!!! some stop on in and warm up with a warm cocktail and some good eats.
We have been sending email blasts out to all of our customers in reference to weather, reminders, etc… if you HAVE NOT been receiving your email please contact the Marina office to ensure we have the proper email address.