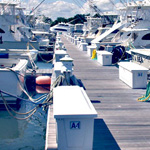 Fishing Report for 1/2/15
Written on: January 2nd, 2015 in Fishing Report
Happy New Year To Everyone!!!!!  Hope your Holiday season has been a good one.  To start the year off the Rockfishing has been holding steady off the beaches of Bethany Beach and South.  One vessel made it down to the Washington Canyon last weekend on an overnighter and landed 4 Longfin Tunas and a couple Blue Sharks!!! WOW …… We have a couple Charter boats fishing year round so give us a call and tough it out one day or lock in your 2015 fising date.  Many boats offer discounts for early bookings…  Call 302-227-3071 for more information.
Dates to Remember   June 26-28 2nd Annual Kid's Catch All Tournament  ( Supporters and Sponsors needed and welcome)
July 25th the 7th Annual Seafood & Arts Festival  (Art & Food Vendors welcome applications available online or call 302-227-3071)
Visit us at the Ocean City Boat Show  February 13-15 at the Convention Center in OC, Maryland.
Till next time Tight Lines & Good Times!!!!!