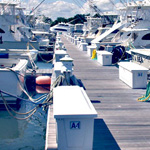 Archived Posts From: 2014
Written on: December 30th, 2014 in Fishing Report
For a few hardy souls the Rockfish season is still not over.  For those willing to head out we have a good number of folks returning with some nice catches.
As we approach 2015 we would like thank everyone for another great year.  Our docks and parking lots were quite busy this past season and a lot of fish were caught.  The first annual Kids Catch-All Tournament held on behalf of the Lyme Disease Association of the Eastern Shore of Maryland (which serves Sussex County in Delaware) was a tremendous success with great catches, amazing food, and a lot of fun for all of the anglers.  Last year's event saw 75 participants take part in the action and there is already a lot of interest for the 2015 Kids Catch All, which will be heald June 26th – 28th.
Although it was cut short by rain, the Seafood and Arts Fesitval saw a record breaking crowd this past year.  The food and art vendors had a spectacular array of products on display and everyone went home happy.  Next year's event on July 25th will be sure to top this past year's so be sure to save the date.
We look forward to seeing everyone in 2015!
Written on: December 13th, 2014 in Fishing Report
We are still seeing a good number of people around the marina trying to find some rockfish action after last week's Nor'easter.  So far it has been a rather mixed bag.
With the holidays approaching , we at IRM would like to thank everyone for such a great year and we look forward to  2015.  Please have a very happy and safe holiday season.  On February 13-15 stop by and see us at the Ocean City Boat Show at the Ocean City Covention Center.
Written on: December 2nd, 2014 in Fishing Report
Happy holidays to everyone!  Our parking lots were busy as many anglers set out over the weekend to take advantage of the break in the weather.  There has been some good tog fishing inshore and some reports of rockfish limits off of the beach.
As a remind to our slip holders, there are only 2 weeks left to get your vessels out of the water for winter land storage.
This winter please be sure to stop by and visit us at the Ocean City Boat Show and mark your calendars for the 2nd Annual Kids Catch-All Fishing Tournament, June 26th-28th here at the Indian River Marina, and the 7th Annual Seafood and Arts Festival on Saturday July 25th.
A here is a nice catch from IRM Charter Boat, Karen Sue this past weekend.  Until next time, tight lines and good times!