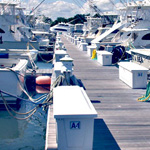 Fishing Report for 5/30/2015
Written on: May 30th, 2015 in Fishing Report
Great fishing both Inshore and Offshore!
Tommy Jr., Josh, Tom Sr. and Matthew Gessler of Media, PA, Steve Schwing of Baltimore, Md and Kenny Arndt of Pottstown, PA had a good day on the ocean with this great catch of 11 yellowfin tuna. They were trolling at the Baltimore with ballyhoo.
Kevin Denison from Bethany Beach, DE, Tom DiCampli from Wilmington, DE and Todd Buckman of Newark, DE, were fishing on the "3 Amigos" and caught these 6 tuna while trolling ballyhoos in the Baltimore Canyon.  The total weight of the tuna was 174lbs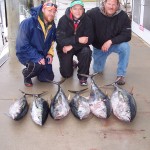 Roger Clappe from Wilmington, DE, caught these 11.7lb and 10.3lb blue fish while fishing with Ponytails in the Indian River Inlet.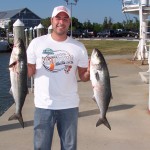 Jesse Cruickshank, Jeff Griffin and Capt. Stan Smith of the "Cindy Sue" caught a 109lb mako and 9 tuna while fishing out at the Baltimore on an overnight trip. They used a false albacore to hook the shark up and trolled ballyhoo for the tuna.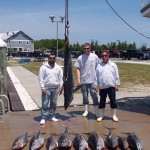 Don't forget that the 2nd Annual Indian River Marina Kid's Catch All is coming up June 26th, 27th, 28th.  Be sure to register your young anglers now!  Please give us a call at 302-227-3071 for more information.
Tight lines and good times!