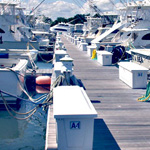 Fishing Report for 8/1/15
Written on: August 1st, 2015 in Fishing Report
The weather and the fishing continue to be amazing here at Indian River Marina! Inshore reports hold steady with Seabass, Bluefish, Croaker, and still a good number of Flounder. Offshore reports Dolphin, Wahoo, Yellowfin and some large Bigeye Tuna. Also offshore there have been increasing White and Blue Marlin releases, which is great for the upcoming tournament. With it being a perfect day we can't wait to see all the catches that get brought in today.
As we get closer to the White Marlin Open starting on Monday, more boats are coming into dock and it looks like it will be a great tournament this year. Good luck to all those competing.
Below are some great photos of catches here at Indian River Marina.
Tom Moran of Wilmington, DE, caught these flounder using live mullet in the Indian River Inlet. The heaviest weighed in at 3.6lbs.
John Dougherty and Kenny Harwanko of Wilmington, DE caught these flounder fishing out at B-buoy using bucktails with gulp on the "2-Much". The biggest one weighed in at 9.6lbs.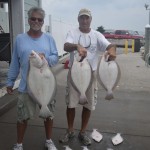 10 year old Zack Bezick of Hillsborough, NJ caught a 3.9 lbs flounder and some snapper blue fishing while on the "El Shaddai" with Capt. Bob Sylvester at Site 10 using cut bait.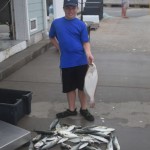 This 9lb 35″ rainbow runner was caught by Jack Hannum while fishing in the Viking Ocean Showdown in New Jersey out in 40 fathoms at "North Haze" Canyon. It was caught in the midst of a mahi scool while pitching out a ballyhoo. Rainbow runners are in the jack family.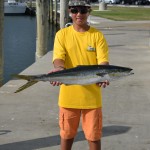 Til next time Tight Lines and Good Times!
All photos courtesy of Hook'em and Cook'em