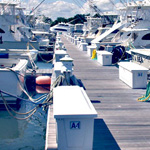 Fishing Report 8/8/2015
Written on: August 8th, 2015 in Fishing Report
This week there was some great fishing here at Indian River Marina. Everyday fish are being brought in! Be sure come down to Hammerheads and see what's been caught today. Also, charters are headed out every day, make sure to call and book yourself a charter today and catch yourself some dinner!
Lets get to the great photos we have of this week!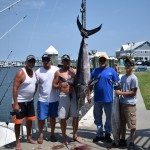 The crew from the "Work Release" had a great trip out at the Washington Canyon and brought back this 76lb sword fish and a 29.5lb wahoo. The sword fish was caught on a whole squid at night and the wahoo was caught on the troll with ballyhoo the next morning.
Pictured are Brian Wolfenburger of York, PA, Bill Deihm of Honeybrook, PA Clay Harrison of Boyertown, PA, swordfish angler Frank Given and wahoo angler Paul Given also from Honeybrook, PA.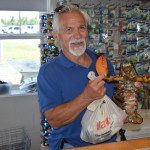 This 2lb lobster was snagged with a pink flounder pounder while fishing on the Judy V. with Capt. Eddie Wheedleton at Site 10. Jay Schmidt of Ocean View, DE got this tasty critter steamed up at Hook 'em & Cook 'em for lunch.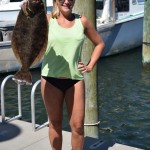 Holly Harding of Smyrna, DE caught this 5.6 lbs 28" flounder using live spot while fishing in the Indian River Inlet.
Til next time Tight Lines and Good Times!
Photos courtesy of Hook'em & Cook'em