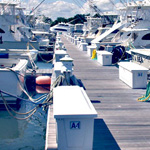 Archived Posts From: 2016
Written on: February 10th, 2016 in Fishing Report
There are only 2 more days until the 2016 Ocean City Boat Show.  Many  Indian River Marina staff members will be on hand to say hello to old and new friends and answer an questions about the upcoming season.  For more information about the show please check out their site at http://www.ocboatshow.com and we hope to see you there!
It is not too early to mark your calendars for the 2nd Annual Kids Catch-All Fishing Tournament on June 24, 25, and 26 for youth 3 to 18 years old.  For more information on this great event that benefits the Lyme Disease Association of Delmarva, INC visit  http://www.destateparks.com/marinas/Catch-all-tournament-2016.asp . If you know of a company or organization that would like to take advantage of the great marketing opportunities provided by the tournament please have them contact Grant Melville at 302-227-3071 or grant.melville@delaware.gov to learn about the varying levels of event sponsorship that are available.
For the eighth year in a row the Seafood and Arts Festival returns on Saturday July 23th from 10 AM to 6 PM.  There will be plenty of excellent seafood and nautical themed arts and crafts.  As usual, kids will have lots of games and crafts to choose from as well.
We hope that you are all having a great winter and look forward to seeing everyone on the docks soon! April can not get here soon enough!
Til next time Tight Lines and Good Times!