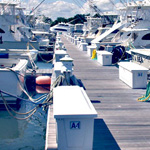 Archived Posts From: 2016
Written on: January 28th, 2016 in Fishing Report
There are only 15 more days until the 2016 Ocean City Boat Show on February 12 – 15.  Many staff members will be on hand to say hello to old and new friends and answer any questions about the upcoming season.  For more information about the show please check out their site at http://www.ocboatshow.com/ and we hope to see you there.
April 15th will be here before we know it and we cannot wait to see the boats going back into their slips.  We hope everyone is having a great winter and staying warm and look forward to seeing everyone soon! We look forward to another great and busy year filled with great fishing and great food, drinks, and music at Hammerheads Dockside.  As we get closer to the start of the season will pass along their hours.
Til next time Tight Lines and Good Times!
Written on: January 8th, 2016 in Fishing Report
Happy New Year Everyone from Indian River Marina. Hope your Holiday season has been a good one.  To start the year off the Rockfishing has been slow, we are hoping they start to bite soon. We have a couple Charter boats fishing year round so give us a call and tough it out one day or lock in your 2016 fising date.
Come on down and get in on the action.
This winter please be sure to stop by and visit us at the Ocean City Boat Show February 12-14 and mark your calendars for the 2nd Annual Kids Catch-All Fishing Tournament, June 24th-26th here at the Indian River Marina, and the 8th Annual Seafood and Arts Festival on Saturday July 23rd.
Til next time Tight Lines and Good Times!