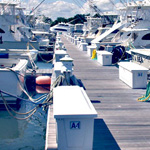 Fishing Report 9-4-16
Written on: September 4th, 2016 in Fishing Report
With Hermine still sitting out off the coast, the seas are churned up pretty bad. It will take several days before things flatten out enough to get out there and find the fish again. The marina has made it through the high tides and wind with no major problems so far. We'll let you know once the charter boats start running again.
See you soon and stay safe!
The pic above was taken this afternoon, 9/4/16.