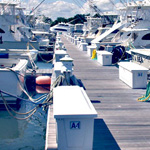 Archived Posts From: 2016
Written on: October 20th, 2016 in Fishing Report
Fishing Report 10-19-16
Active dredging taking place in Indian River Marina Mon-Fri from 7am-3pm. Please use caution when entering and exiting the marina. There will be temporary closures of the public boat ramp.
The fishing inshore has remained steady with Taug, Rockfish, blues and flounder.  The offshore is still producing yellowfin, Mahi, Wahoo and even reports of White Marlin out in 67 degree water.
Til next time, Good times and tight lines!!!
Written on: October 13th, 2016 in Fishing Report
Caution! Dredging in process at Indian River Marina.  During the hours of 7am-3pm, there is an dredge crew working close to the entrance to the marina.  Please be aware of temporary closing.
As for the fishing, several boats went out yesterday and landed some yellowfins.  Hopefully the hurricane out in the Atlantic will push the fish in closer to shore.  We'll see what happens here in the next day or two.
Til next time, Tight Lines and Good Times!
Written on: October 5th, 2016 in Fishing Report
Still blowing pretty good. Very few boats heading out. With the pending storm Matthew, the conditions will probably not get much better. We will have more on the fishing when we get it.
IRM dredging – the equipment is all in place, but we are securing it in the event this storm comes our way. If you are using the ramp at Indian River Marina, use caution around the dredge equipment and be sure to pass between the two white buoys that mark the dredge pipe.