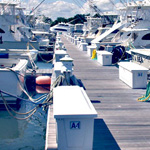 Archived Posts From: 2016
Written on: October 13th, 2016 in Fishing Report
Caution! Dredging in process at Indian River Marina.  During the hours of 7am-3pm, there is an dredge crew working close to the entrance to the marina.  Please be aware of temporary closing.
As for the fishing, several boats went out yesterday and landed some yellowfins.  Hopefully the hurricane out in the Atlantic will push the fish in closer to shore.  We'll see what happens here in the next day or two.
Til next time, Tight Lines and Good Times!