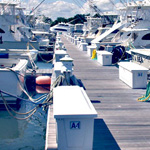 Fishing Report 9-10-16
Written on: September 10th, 2016 in Fishing Report
The fishing is back on!!!! Boats are running off shore and catching some nice fish. We are hearing of numerous White Marlin releases and folks bring in Mahi (See pic below).
Also, don't forget to stop in at our Fisherman's Flea Market today from 9am to 2pm.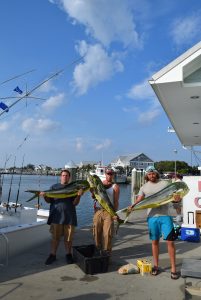 The first offshore boat to go out after storm Hermine was the Capt Ike II. They gave it a go and were not disappointed with a nice catch of mahi. Frank Orsini of Hockessin, DE, caught a 23.5lber Dominic Paloni of Lancaster, PA, caught a 26.3lber and Nick Kincaid of Bear, DE caught a 28.8lber. They also managed to get 110lbs more of peanut sized mahi and 2 white marlin releases.
Photo courtesy of Hookem & Cookem.
Til next time, Tight lines and good times!!!!