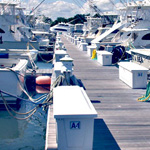 Fishing Report 11-13-16
Written on: November 13th, 2016 in Fishing Report
Fishing Report 11-13-16
We are hearing numerous reports of small blues, rockfish and tog around the inlet and inshore. We will let you know when we hear about the rockfish moving down into our area.  There is still time to book a charter trip this year.  Give us a call at 302-227-3071 to get more information.
Also, please note that the marina will be closed for the Thanksgiving Holiday on November 24 & 25.   In addition, December 18th will be the last day our boatyard is open on the weekends and will be the last Sunday the Marina Office will be open on Sundays.
We are having some great deals at our Ship Store as we prepare to close up for the season.  Stop in for 40% off Mojo items, discounted IRM logo items and 25% off regular priced items through out the store.
Til next time, good times and tight lines.