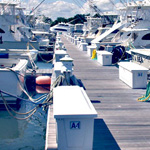 Fishing Report 6-7-17
Written on: June 7th, 2017 in Fishing Report
Fishing Report 6-7-17
The fishing was great this past weekend and we look forward to an amazing weather forecast for this coming weekend.  We had some big sharks and some tuna hit the docks.  Check out these pics: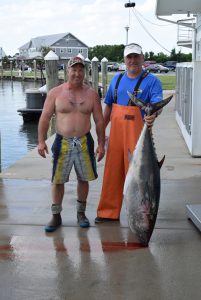 The largest blue fin tuna to come to Indian River Marina arrived yesterday from the "Indian Giver" Jimmy Bunting of Georgetown, DE and Frank Perna of Alexandria, VA caught this 84lb tuna while they were fishing in 61.7 degree water at the Baltimore Canyon trolling ballyhoo.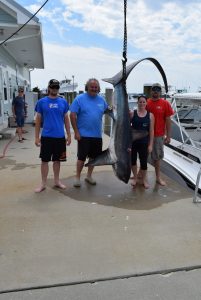 A 221lb Thresher shark was caught by Mason Coursey of Centreville, MD, while fishing with mackerel fillet. Tyler Hudson and Joe Hudson of Kent Island, MD, and Kayla Coursey of Centreville were all fishing on the Pandion II at the 20 fathom line.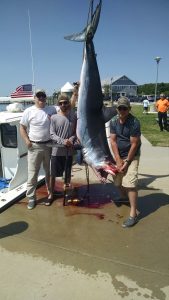 Well it always works out this way. The biggest shark is always caught by the group that is NOT in the tournament. This 461lb 100 inch Mako shark was caught by John Pendell, Jr of Birdsboro, PA while fishing on the Miss Darlene just outside of the Elephants Trunk using fresh blue fish fillet.  John Pendell, John Pendell, Jr both from Birdsboro, PA, and Rick Brown of Pottstown, PA
Photos courtesy of Hookem & Cookem Bait-Tackle-Seafood.
Til next time, tight lines and good times.