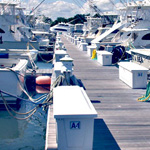 Fishing Report 6-29-17
Written on: June 29th, 2017 in Fishing Report
Fishing Report 6-29-17
The wind is a howling today, but it should lay down by the weekend.   The fishing has still been good with reports of Mako, tuna and mahi being caught offshore.
The 1st Annual Tuna Blast is on the 4th of July for IRM slip holders and Drystack customers.  Registration is till Friday at 7:30 here at IRM.  If your not a customer, we still want you to come to the scale on Tuesday between 3:30-6:30pm to watch our customers bring in some huge tuna and flounder.
Fish Pics: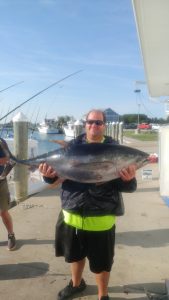 This 58.4lb and 45 inch yellowfin tuna now tops the leader board at Indian River Marina. It was caught by Al Lee from Ocean View, DE while he was fishing on the "3 Amigos" with Capt. Kevin Denison. They were fishing out at the Baltimore Canyon using ballyhoo with purple Ilanders on a spreader bar.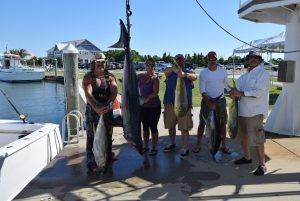 This 164lb mako, and 45.1lb and 45.3lb yellowfin tuna and 14.2lb and 8.2lb mahi were all caught while fishing in the Baltimore canyon on an overnight trip on the Capt. Ike II. Capt. Dave Collins and Capt. Brian Joseph said they used a whole mackerel to hooked up to the mako and then trolled for the tuna using ballyhoo.  Mike Moss of Laytonsville, MD, Beth Pfaff of Bishopville, MD, Mike Shauv of Lancaster, PA, Roger Velasquez of Bishopville, MD and Larry Wade of Lancaster, PA.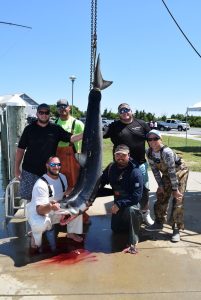 Nick, Johnny and Andrew Coffiey all from Wilm., DE and Luke Horney, Jacob Smulski and Vito DeFrancesco fished in the Baltimore Canyon trying to find some tuna but found this 207lb mako shark instead. They hooked this big one up using whole mackerel.
Photos courtesy of Hookem & Cookem Bait Tackle Seafood.
Til next time, Tight lines and Good times!!!!!!