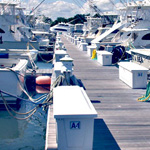 Fishing Report for 5/28/18
Written on: May 28th, 2018 in Fishing Report
Happy Memorial Day!!!  The weekend did not turn out as well as we had hoped but some boats did manage to get out and do some fishing.    Inshore reports of scattered Sea Bass, Flounder and Rockfish even in the Inlet.  Offshore reports of the first Bluefins, Yellowfins, Mako, and Big Eye over the past few days south of the Poorman's and in the Baltimore Canyon.  Let's hope this trend keeps going with more fish, better weather and water!!
Mike Lewis of Ocean View, DE caught and released this rather large black drum while fishing one night up in the Delaware Bay off of Cape May NJ using surf clams.  The fish was estimated to weigh around 40lbs.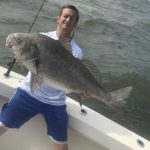 Susan Krepshaw of Wilmington, DE caught this 31.6lb and 44 1/2 inch rockfish while fishing in the Indian River Inlet on the south side using 6″ Tsunami swim shads in a Red Trout color.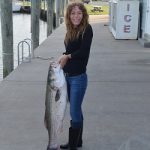 Capt. Rodney Meyers of the Last $ took a ride out to the Radford with his charter Wes Spicer of Smyrna, DE, Rich Floster of Harbeson, DE, Lisa Zawaski of Smyrna, DE, Jack Kunkle of Lewes, DE, Ken Spicer of Lewes, DE, Kyle Spence of Wilm., DE and mate Rich Harper.  Capt. Rodney reported that the bite was a little on the slow side but they were catching some nice sized fish.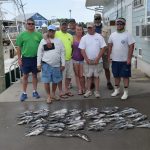 Get the kids ready for the 4th Annual Kid's Catch Fishing Tournament coming up quick June 22-24.  Check out the events page for more info and registration.  Till  then Tight Lines & Good Times!!!
Pictures courtesy of Hookem & Cookem