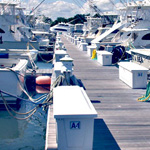 Archived Posts From: 2018
Written on: June 29th, 2018 in Fishing Report
Offhsore Tuna fishing is still hot!!!   Most of our boats are hitting the docks with nice catches with good size to them.  Inshore we are seeing a few more Flounder and small Croaker here and there.   It's going to be a busy red hot weekend so give us a call and get hooked up to spend a cool day out on the water hitting some of the best fishing grounds on the East Coast.
Then stop in at Hookem & Cookem for fresh bait or ice for your catch.   When you are ready to relax walk on down to Hammerheads Dockside for a cooool beverage and great eats!!!!!   Till next time Tight Lines & Good Times.
Call Carolyn at 302-227-3071 for Charter questions and information.
Written on: June 25th, 2018 in Fishing Report
Another great weekend of fishing for young and old alike! We held our 4th annual Kids Catch All event, and despite the gloomy forecasts, we ended up with two great days of fishing, fun, and friends.
The Gessler family hit the scale with some great catches, including the trophy yellowfin (48 lbs 6 oz) caught by Francesca and the winning Mahi (7 lbs 9 oz) caught by Isabella.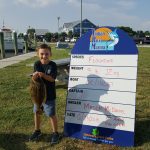 Mason McDaniel landed the winning flounder at 3 lbs 12 oz. Mason caught the trophy from the Inlet on Saturday.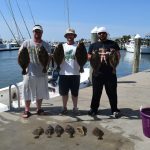 Capt. David Hopkins, Justin Smith and John Cushner, all from Newark, caught a boat limit of flounder fishing out at B-buoy.  They used squid, minnows and fresh cut bluefish to hook up these flatties.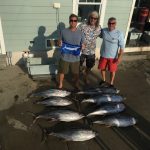 Left to right. Dave Gorelick, Wayne PA. Tom Drgon, Frankford DE. Bob Dunn, Kensington MD. They fished the Baltimore using ballyhoo, and their largest yellow fin weighed 48lbs. They also scored the first white release at Indian River Marina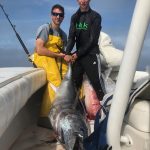 Calvin Long and his father Bryan Long from Wyoming, DE, caught this 121lb (gutted weight) blue fin tuna while fishing ballyhoo on spreader bars at the Baltimore Canyon on "Knock On Wood" with Dave Woods.
There's plenty of great fishing left, and the summer is only beginning! So give us a call at 302-227-3071, and get hooked up with one of our charter boats, or book a trip with one of our headboats!
Til next time, tight lines and good times!
Written on: June 24th, 2018 in Fishing Report
Wow some great fishing over the past week here at IRM.   Inshore and Offshore boats hitting the docks with lots of nice catches.  We have the 4th Annual Kid's Catch going on this weekend and despite the weather we have had a great turnout so far with the final day of fishing today.  Here are some reports to catch up on.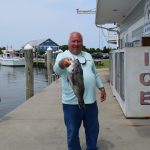 This 4.6lb black sea bass was caught by Randy Eddinger of Harbeson, DE when he was fishing with Capt. Mike Eddinger on the Paul B. Sands.  They were using squid and fishing at the Radford.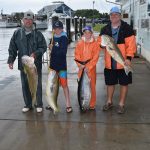 While fishing with Vince Luciani of the Eire Mar, Mike and Brian Fleming of Rehoboth, DE and Dylan and Jim Baker of Lewes, DE fished the Baltimore Canyon.  They used spreader bars with green machines to bring up this 30lb yellow fin.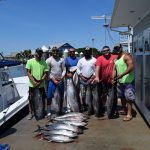 Angler Jacob Smulski of Wilmington, DE caught this 101.4lb big eye tuna while trolling ballyhoo with sea witches when fishing with his buddies Chad Warren of Milford, DE, Trampus Henderson, Luke Horney, Andrew Coffiey and Johnny Coffiey of Wilm., DE on the Finsatiable out at Poor Man's Canyon.  They also hooked up with 11 yellow fin tuna which topped out at 45lbs.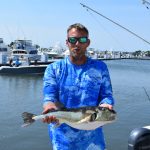 Clay Harrison of Boyertown, PA saw this 7.2lb smooth puffer swimming on top of the water and threw out minnows to catch it out at B-Buoy.
Tons of great catches here ya go!!!!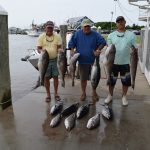 Roger Meekins of Frankford, DE, Jeff Waxman of Bethany Beach, DE and Steve Redden of Middletown, DE fished out at the Baltimore Canyon and had a great catch.  They brought back blue line tile weighing up to 16.6lbs and 3 yellow fin tuna and 1 blue fin tuna.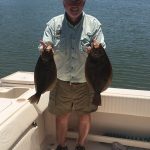 Pics courtessy of Hookem & Cookem… Till next time Tight Lines & Good Times!!!!
Written on: June 18th, 2018 in Fishing Report
Tuna Fishing has been red Hot for the past week with Yellowfins, Bigeyes & Bluefins.  Mahi Mahi have also been scattered with reports of the first White Marlin, Blue Marlin and numerous nice size Mako, Tiger and Thresher sharks being released.  Plenty of action inshore as well with Tile, Flounder, scattered Rockfish and Trout.  Now is the time to get your trip booked with one of our numerous Charter Boats  to choose from.
Call Carolyn at 302-227-3071 she will get you hooked up.
Get the kids signed up for the 4th Annual Kids Catch All Tournament open to the public here at Indian River Marina.  Go to our events page and click the link for the Tournament.   You dont want to miss out on this special event and what an event it is.  Two nights of food, giveaways, music and good ole family fun all for a great cause in support of Lyme Disease and other tick bourne illnesses.  The awards ceremony ends the event with beautiful trophies for each  winning division and a free suprise gift for each participant.
Till next time Tight Lines & Good Times!!!
Written on: June 10th, 2018 in Fishing Report
Fishing has been great this last week and still seems to be picking up especially Offshore.  Here are some fish that hit our docks on Friday.  Pics courtesy of Hook'em & Cook'em.
Jordan Lightner of Dillsburg, PA fished with minnows on the south side of the Indian River Inlet and caught these two 16 1/2 inch keeper flounder.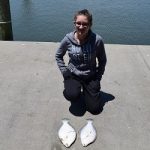 The maiden voyage of the Elizabeth Ann was a great trip with a 76lb blue fin tuna and 3 yellow fin tuna (largest 32.3lbs) being caught at the Baltimore Canyon.  Angler Tom Healy caught these fish and 5 skippies trolling ballyhoo on spreader bars.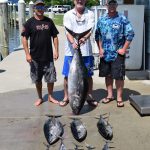 Anglers Jake Janney and Bill Murray, Hunter Hepbron, Mike Glenn and Ryan Janney, all from Cecil County, MD, fished on the Better Days at the Baltimore for blue fin tuna.  They reported they caught these two keepers using naked ballyhoo on a spreader bar, but also said they went 12 for 14 and could have filled the boat with the school of fish that was there.  They also said they caught them on other various baits and tackle, the fish were biting on anything that they threw out there.
GET the kids signed up for the 4th Annual Kids Catch All Tournament!!!   You don't want them to miss out on the 2 days of Fun, Food and Fishing.    With great trophies, tons of awesome giveaways and music,  all to benefit the education and recognition of Lyme Disease.  This is a great kid's tournament that anyone can fish.  So weather you are in Maryland, Ocean Pines, Long Neck, Pennsylvania it is well worth the trip and the kid's of all ages get hooked on fishing this event.
Till next time Tight Lines & Great Times!!!
Written on: June 8th, 2018 in Fishing Report
Fishing is picking up here at Indian River Marina.   Offhsore Tuna fishing has been good and looks to get even better this weekend with some warmer water moving in closer.  Inshore we have had reports of Rockfish, Trout and Seabass.  Give us a call and we will be sure to get you hooked at IRM.
June 22-24 bring the kids down and get them signed up for the 4th Annual Kids's Catch All Tournament with trophies, tons of prizes and giveaways, 2 nights of food and entertainment and all for a great cause the fighting of Lyme Disease and other tick bourne illnesses.
Here are some catches this week courtesy of Hook'em & Cook'em.
Wayne Davis of Rehoboth Beach, DE caught this 11.3lb 31 1/4 inches using a 1oz Bass Assassin with a rubber worm.  They were fishing in the Indian River Inlet on the south side on incoming tide.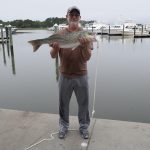 Matt Boyer of Reading, PA, caught this 6.4lb 27.5 inch sea trout while fishing on the south side of Indian River Inlet using a swim shad.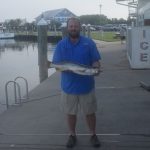 This 141.2lb blue fin tuna was caught by angler Clay Viands of Hedgesville, WV.  He was fishing out at the Tea Cup using ballyhoo on spreader bars on the Bail Out.  Angler Clay Viands, Capts. Rob Lewis and Frank Geck  Ken Looney of North East MD, and John Whitney of Manalopan, NJ.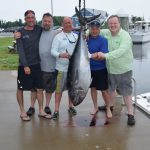 Tom Jr, Tom Sr, Josh, Mary, Francesca and Angela Gessler, Johnny Horning and Freddy Wetzstein fished the Dump Site outside the Tea Cup on the Boy's Toy.  They caught this 107lb blue fin using ballyhoo on a spreader bar.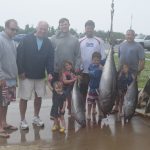 Till next time Tight Lines & Good Times are coming!!!