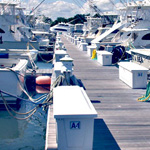 Archived Posts From: 2018
Written on: June 10th, 2018 in Fishing Report
Fishing has been great this last week and still seems to be picking up especially Offshore.  Here are some fish that hit our docks on Friday.  Pics courtesy of Hook'em & Cook'em.
Jordan Lightner of Dillsburg, PA fished with minnows on the south side of the Indian River Inlet and caught these two 16 1/2 inch keeper flounder.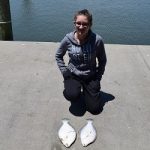 The maiden voyage of the Elizabeth Ann was a great trip with a 76lb blue fin tuna and 3 yellow fin tuna (largest 32.3lbs) being caught at the Baltimore Canyon.  Angler Tom Healy caught these fish and 5 skippies trolling ballyhoo on spreader bars.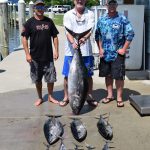 Anglers Jake Janney and Bill Murray, Hunter Hepbron, Mike Glenn and Ryan Janney, all from Cecil County, MD, fished on the Better Days at the Baltimore for blue fin tuna.  They reported they caught these two keepers using naked ballyhoo on a spreader bar, but also said they went 12 for 14 and could have filled the boat with the school of fish that was there.  They also said they caught them on other various baits and tackle, the fish were biting on anything that they threw out there.
GET the kids signed up for the 4th Annual Kids Catch All Tournament!!!   You don't want them to miss out on the 2 days of Fun, Food and Fishing.    With great trophies, tons of awesome giveaways and music,  all to benefit the education and recognition of Lyme Disease.  This is a great kid's tournament that anyone can fish.  So weather you are in Maryland, Ocean Pines, Long Neck, Pennsylvania it is well worth the trip and the kid's of all ages get hooked on fishing this event.
Till next time Tight Lines & Great Times!!!