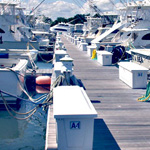 Archived Posts From: 2018
Written on: June 24th, 2018 in Fishing Report
Wow some great fishing over the past week here at IRM.   Inshore and Offshore boats hitting the docks with lots of nice catches.  We have the 4th Annual Kid's Catch going on this weekend and despite the weather we have had a great turnout so far with the final day of fishing today.  Here are some reports to catch up on.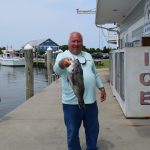 This 4.6lb black sea bass was caught by Randy Eddinger of Harbeson, DE when he was fishing with Capt. Mike Eddinger on the Paul B. Sands.  They were using squid and fishing at the Radford.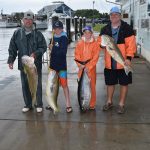 While fishing with Vince Luciani of the Eire Mar, Mike and Brian Fleming of Rehoboth, DE and Dylan and Jim Baker of Lewes, DE fished the Baltimore Canyon.  They used spreader bars with green machines to bring up this 30lb yellow fin.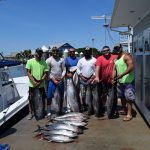 Angler Jacob Smulski of Wilmington, DE caught this 101.4lb big eye tuna while trolling ballyhoo with sea witches when fishing with his buddies Chad Warren of Milford, DE, Trampus Henderson, Luke Horney, Andrew Coffiey and Johnny Coffiey of Wilm., DE on the Finsatiable out at Poor Man's Canyon.  They also hooked up with 11 yellow fin tuna which topped out at 45lbs.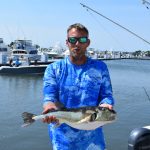 Clay Harrison of Boyertown, PA saw this 7.2lb smooth puffer swimming on top of the water and threw out minnows to catch it out at B-Buoy.
Tons of great catches here ya go!!!!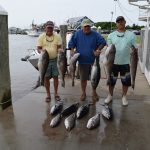 Roger Meekins of Frankford, DE, Jeff Waxman of Bethany Beach, DE and Steve Redden of Middletown, DE fished out at the Baltimore Canyon and had a great catch.  They brought back blue line tile weighing up to 16.6lbs and 3 yellow fin tuna and 1 blue fin tuna.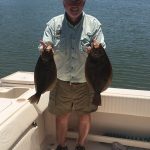 Pics courtessy of Hookem & Cookem… Till next time Tight Lines & Good Times!!!!