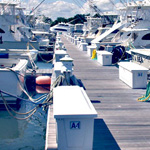 Archived Posts From: 2018
Written on: June 8th, 2018 in Fishing Report
Fishing is picking up here at Indian River Marina.   Offhsore Tuna fishing has been good and looks to get even better this weekend with some warmer water moving in closer.  Inshore we have had reports of Rockfish, Trout and Seabass.  Give us a call and we will be sure to get you hooked at IRM.
June 22-24 bring the kids down and get them signed up for the 4th Annual Kids's Catch All Tournament with trophies, tons of prizes and giveaways, 2 nights of food and entertainment and all for a great cause the fighting of Lyme Disease and other tick bourne illnesses.
Here are some catches this week courtesy of Hook'em & Cook'em.
Wayne Davis of Rehoboth Beach, DE caught this 11.3lb 31 1/4 inches using a 1oz Bass Assassin with a rubber worm.  They were fishing in the Indian River Inlet on the south side on incoming tide.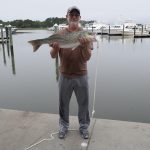 Matt Boyer of Reading, PA, caught this 6.4lb 27.5 inch sea trout while fishing on the south side of Indian River Inlet using a swim shad.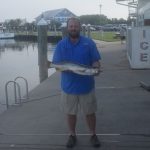 This 141.2lb blue fin tuna was caught by angler Clay Viands of Hedgesville, WV.  He was fishing out at the Tea Cup using ballyhoo on spreader bars on the Bail Out.  Angler Clay Viands, Capts. Rob Lewis and Frank Geck  Ken Looney of North East MD, and John Whitney of Manalopan, NJ.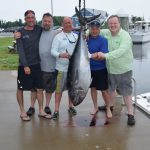 Tom Jr, Tom Sr, Josh, Mary, Francesca and Angela Gessler, Johnny Horning and Freddy Wetzstein fished the Dump Site outside the Tea Cup on the Boy's Toy.  They caught this 107lb blue fin using ballyhoo on a spreader bar.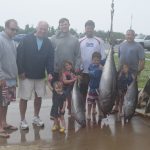 Till next time Tight Lines & Good Times are coming!!!