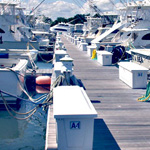 Archived Posts From: 2018
Written on: June 25th, 2018 in Fishing Report
Another great weekend of fishing for young and old alike! We held our 4th annual Kids Catch All event, and despite the gloomy forecasts, we ended up with two great days of fishing, fun, and friends.
The Gessler family hit the scale with some great catches, including the trophy yellowfin (48 lbs 6 oz) caught by Francesca and the winning Mahi (7 lbs 9 oz) caught by Isabella.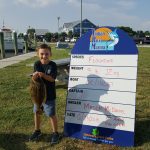 Mason McDaniel landed the winning flounder at 3 lbs 12 oz. Mason caught the trophy from the Inlet on Saturday.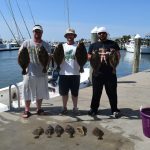 Capt. David Hopkins, Justin Smith and John Cushner, all from Newark, caught a boat limit of flounder fishing out at B-buoy.  They used squid, minnows and fresh cut bluefish to hook up these flatties.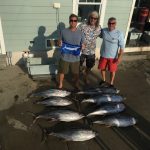 Left to right. Dave Gorelick, Wayne PA. Tom Drgon, Frankford DE. Bob Dunn, Kensington MD. They fished the Baltimore using ballyhoo, and their largest yellow fin weighed 48lbs. They also scored the first white release at Indian River Marina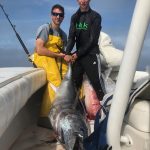 Calvin Long and his father Bryan Long from Wyoming, DE, caught this 121lb (gutted weight) blue fin tuna while fishing ballyhoo on spreader bars at the Baltimore Canyon on "Knock On Wood" with Dave Woods.
There's plenty of great fishing left, and the summer is only beginning! So give us a call at 302-227-3071, and get hooked up with one of our charter boats, or book a trip with one of our headboats!
Til next time, tight lines and good times!