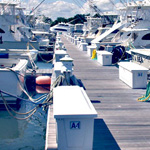 Archived Posts From: 2018
Written on: June 18th, 2018 in Fishing Report
Tuna Fishing has been red Hot for the past week with Yellowfins, Bigeyes & Bluefins.  Mahi Mahi have also been scattered with reports of the first White Marlin, Blue Marlin and numerous nice size Mako, Tiger and Thresher sharks being released.  Plenty of action inshore as well with Tile, Flounder, scattered Rockfish and Trout.  Now is the time to get your trip booked with one of our numerous Charter Boats  to choose from.
Call Carolyn at 302-227-3071 she will get you hooked up.
Get the kids signed up for the 4th Annual Kids Catch All Tournament open to the public here at Indian River Marina.  Go to our events page and click the link for the Tournament.   You dont want to miss out on this special event and what an event it is.  Two nights of food, giveaways, music and good ole family fun all for a great cause in support of Lyme Disease and other tick bourne illnesses.  The awards ceremony ends the event with beautiful trophies for each  winning division and a free suprise gift for each participant.
Till next time Tight Lines & Good Times!!!