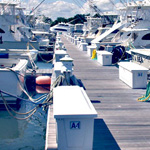 Archived Posts From: 2018
Written on: October 8th, 2018 in Fishing Report
It has been a beautiful couple of weeks down here at the Indian River Inlet! The sun is shining, the cool breeze is blowing, and it's really beginning to feel like fall. The tourist crowds have cleared, so there's plenty of fish for the locals to nab!
Inshore fishing has been steady. Reports coming in with lots of blue fish and flounder on the lines. Our onsite bait & tackle shop, Hook 'em & Cook 'em, has had people coming in with scattered triggerfish, a few Spanish mackerel, and tog.
Offshore fishing reports have been awesome. Reports of people hitting their limit (or getting close) of mahi every day for the past couple weeks. There have also been reports of good white marlin fishing, some people even saying they've caught more in the past couple weeks than they did all summer combined. There's also been some scattered blackfin and some yellowfin here and there.
Well, folks, the weather is gorgeous, but it won't last much longer. Make sure to get out there while the crowds are low and the fishing is still hot! Call Carolyn at 302-227-3071 so we can hook you up with a charter trip!
Until next time, tight lines and good times!