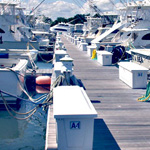 Archived Posts From: 2018
Written on: December 29th, 2018 in Fishing Report
Happy Holidays to those of you that celebrated this week or this month!
Reports say that good-sized sea bass are hitting the decks in the Washington Canyon. There's also reports of plenty of tog at Site 11.
Don't forget to put the 5th Annual Kids Catch-All Tournament on your new 2019 calendar on June 21-23! This tournament is held right here at IRM, has 12 total divisions, and a portion of the proceeds benefits the Lyme Disease Association of Delmarva!
IRM is wishing you a happy and safe New Year's Eve and a restful New Year's Day.
Oh! And don't forget to come say hey at our booth in the Ocean City Boat Show on February 15-17!
Written on: December 9th, 2018 in Fishing Report
Alright folks, it's officially cold outside! IRM is completely winterized and the slips are emptying as vessels move to their winter homes. The boat ramp lot was full yesterday with people out taking advantage of the low winds.
Reports say that keeper rockfish are thick just north of the Indian River Inlet. After a week of shorts, this brought relief to many of our dedicated fishermen.
Wishing everyone cozy nights, happy holidays, and of course, tight lines and good times!