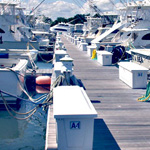 Archived Posts From: 2019
Written on: January 12th, 2019 in Fishing Report
Happy New Year Everyone!!!   Not alot to report on the fishing as the weather has kept our boats tight to the docks.   We are getting ready for our first snow storm of the year "GIA" lets hope she is nice to us.
We do have a couple of our Charter Boats in the water booking winter trips.  Give the office a call at 302-227-3071 and we can hook you up.
This is a good time to get the kids excited about the 5th Annual Kids Catch Tournament with 14 Divisions to land a big one.  The tournament dates are June 22 & 23 2019 fish one or both days, Inshore, Offshore, Jetty, Beach or Headboat.  There are tons of givaways, food, entertainment and fun for the entire family.  No kid goes home empty handed, Tournament T-shirts are given to all that enter.   A portion of the proceeds goes to the Lyme Disease Association of Delmarva, Inc. a non-profit organization that helps to educate and serve the public on Lyme Disease and other tick bourne illnesses.  Contact  Gloria or Jill for more information on this awesome event for Kids.
Don't forget to stop by our booth at the Ocean City Boat Show at the Convention Center in Ocean City on February 15-17, 2019.
Till next time Tight Lines and Good Times!!!!   Always……