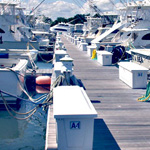 Archived Posts From: 2019
Written on: February 22nd, 2019 in Fishing Report
Well folks, we are one wet, windy week closer to the beginning of warm weather!
THANK YOU to everyone who visited us and our Charter Captains at the OC Boat Show. It was an awesome turnout with thousands of people over the three days.
Captains are still reporting heavy tog, slowly getting their limits if they bounce around enough. The water temperature is up a little bit, now around 43 degrees, so hopefully it continues that trend.
We are busy getting our Kids Catch All Tournament ready for June 21-23, so make sure you've got it on your calendar!
Until next week, tight lines and good times!
Written on: February 15th, 2019 in Fishing Report
Hope everyone enjoyed Valentine's Day either with someone that they love or doing something that they love! It was another week of up-and-down weather with temperatures ranging from kind-of-cold to very-cold.
Inshore fishing remains fairly stable with heavy tog hitting the decks of patient anglers. With the water temperature hovering around 40, tog are slow and light to bite, but certainly well worth it!
Rumor has it that the northern DE region has your choice of blackfish and ling once you hit ~160ft depth of water. Even further north and further offshore they are reporting jumbo porgies, more ling, and lots of cod.
The time has finally come folks – today is the first day of the Ocean City Boat Show! We are manning the booth all day today, tomorrow, and Sunday, so stop by and ask us all of your burning questions, or just say hi!
Until next time – tight lines and good times!
Written on: February 8th, 2019 in Fishing Report
Hope everyone had a chance to get out in the couple nice days that we had!
The boats that fishing the inshore waters are still pulling up large tog from Lewes on down to OC with plenty of room to spare for other boats to join.
If you make it down Virginia way, reports are showing black sea bass are ripping and roaring, with anglers catching limits of consistently 4-5 lb fish. Some bluefish have been reported as well, but don't get your hopes up!
NEXT WEEK is the Annual Ocean City Boat Show, so be sure to come down and see us any time on February 15 – 17.
Until next week, tight lines and good times!
Written on: February 1st, 2019 in Fishing Report
As you might imagine, the severe winter weather has slowed down all maritime activities for most people in the Mid-Atlantic region. We've seen ice in the basin at least twice since the beginning of the month.
That being said, those few brave anglers who bundled up and sailed out of Lewes, Ocean City, and the Inlet pulled up some >10lb tog. Not many people are out, so there are plenty of spots to post up.
We have a couple nice days in the forecast, and we still have charters running so give us a call at 302-227-3071 if you want to get into hardy winter fishing!
DON'T FORGET to come see us at the Ocean City Boat Show from February 15-17 in our usual spot!
As always, tight lines and good times.