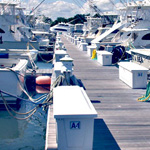 Archived Posts From: 2019
Written on: February 15th, 2019 in Fishing Report
Hope everyone enjoyed Valentine's Day either with someone that they love or doing something that they love! It was another week of up-and-down weather with temperatures ranging from kind-of-cold to very-cold.
Inshore fishing remains fairly stable with heavy tog hitting the decks of patient anglers. With the water temperature hovering around 40, tog are slow and light to bite, but certainly well worth it!
Rumor has it that the northern DE region has your choice of blackfish and ling once you hit ~160ft depth of water. Even further north and further offshore they are reporting jumbo porgies, more ling, and lots of cod.
The time has finally come folks – today is the first day of the Ocean City Boat Show! We are manning the booth all day today, tomorrow, and Sunday, so stop by and ask us all of your burning questions, or just say hi!
Until next time – tight lines and good times!